Pot SEKKI (Ø15,7x17,7cm - Large)
Rediscovering the magic of ancient manufacturing, the Sekki Pots are made of clay with the remarkable, coarse texture and deep, earthy colour. The Sekki Pot comes with a matching saucer for optimal care for your plants. Available in two sizes, they make a great couple to welcome the green living into your home. 
Unglazed solid dyed stoneware
Care: Rinse in lukewarm water
Height 17,7 cm
Diameter 15,7 cm
We are sorry...!
Your requested product is no longer available: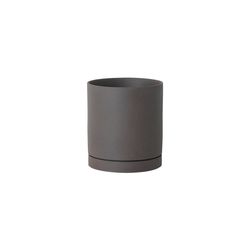 ferm Living Pot SEKKI (Ø15,7x17,7cm - Large) - brown/gray (00)
instant discount - 0%
Sale - %
... loading more products